Our school has a systemic approach to enrolment based on preset criteria defined by the Catholic Schools Office and used by all schools in the Diocese of Broken Bay.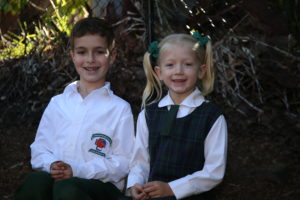 Enrolment packages are available from the school office or the forms are available below to print off. The documents below form the Sacred Heart Enrolment Package. The school takes applications for enrolments from Yr 1-6 as needed during the school year. Kindergarten applications are accepted in advance but close on 31 May of the year before your child commences school. A child starting school must turn 5 before 31 July in the year they start. All enrolments are considered by the enrolment committee.
Priority in enrolment is according to the Broken Bay Diocesan Enrolment Policy.
Enrolment in Catholic secondary schools following completion of Year 6 at Sacred Heart Catholic Primary School is not automatic. Parents need to make application to the school of their choice well in advance. The Diocese of Broken Bay has an agreement with some schools re the entry of the boys into the school in Year 7.
Enrolment Information Documents:
Enrolment Process for Kinder
Enrolment Criteria Sacred Heart
Schedule Fees
Procedures for Enrolment - Kinder
Procedures for Enrolment - Yrs 1-6
Enrolment Pack Documents (all 4 documents below must be completed and lodged):
Enrolment Application Form
Parish Priest Reference Form
Parent Permission Release Form
Student Enrolment Survey
When lodging your completed Enrolment Application, Parish Priest Reference Form, Parent Permission Release Form and Student Enrolment Survey, an original Birth Certificate and Baptism Certificate must be sighted by the school office.
We also require a copy of your Medicare Immunisation History Statement (not the "blue book").  Enrolments for Years 1-6 should also include your child's most recent school report and Naplan (Yrs 3-6).
A non-refundable fee of $66.00 is payable with your application.