New online enrolment enquiry form
Are you interested in looking at Sacred Heart for your child? Just complete our online enrolment enquiry form here and we'll be in touch.
Enrolment Enquiry
Welcome to Sacred Heart Mona Vale!
As a member of system of schools known as Catholic Schools Broken Bay we seek to inspire hearts and minds to know Christ, to love learning, to use their talents to be the very best they can be.
Our principal, teachers, staff and parents all work together with the wider community to deliver authentic, professional Catholic education with care and compassion.
Our teachers are committed to the mission of Catholic education and apply evidence-based practice to support students to learn and to gain the confidence and skills to enable them to be involved in shaping their society.
DO YOU NEED TO BE CATHOLIC TO ATTEND A CATHOLIC SCHOOL?
No, your child does not need to be Catholic to enrol at a Catholic school. While preference is given to students of the Catholic faith, particularly if you are active in your parish, our schools welcome families from all backgrounds or faith traditions who share in our mission and purpose.
K-12 Enrolment
Catholic Schools Broken Bay has commenced the rollout of a K-12 enrolment program, providing parents with children in our system of primary schools a streamlined pathway through to our secondary colleges. Please refer to your school Principal for further information about which schools currently offer a K-12 enrolment pathway.
Catholic Schools Broken Bay Secondary Colleges
Mercy Catholic College, Chatswood
St Joseph's Catholic College, East Gosford
St Brigid's Catholic College, Lake Munmorah
St Paul's Catholic College, Manly
St Peter's Catholic College, Tuggerah
St Leo's Catholic College, Wahroonga
Mackillop Catholic College, Warnervale
Enrol at Sacred Heart Mona Vale
INSPIRING YOUR CHILD TO LOVE LEARNING AND BE THE BEST THEY CAN BE
At Sacred Heart Mona Vale, our community is what makes us different. Community is an essential part of our school as teachers, families and students care for and support each other throughout their time at the school. The wellbeing of all children in our care is pivotal to everything we do and plays a vital part in their academic success. We offer a dynamic learning environment featuring modern facilities, extensive outreach programs and many sporting opportunities.  Principal, Suellen Garey, leads a dedicated and professional team, proud of the academic results they have achieved for their students and committed to guiding them to be the best they can be.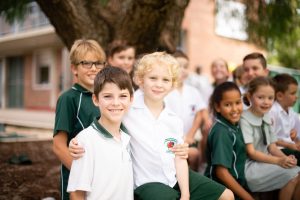 Sacred Heart Catholic Primary School is a part of the systemic Catholic Schools in the Diocese of Broken Bay, with close links to our local Catholic High Schools – Mater Maria Catholic College, Warriewood and St Paul's Catholic College, Manly.
When enrolling in Catholic Secondary schools following the completion of Year 6 at Sacred Heart Catholic Primary School, parents will need to make applications to the school of their choice.  The Diocese of Broken Bay has an agreement with some schools regarding the entry into Year 7.
How to Enrol
The school accepts enrolments for Kindergarten to Year 6 throughout the year. Enrolments are now open for Kindergarten 2022 and beyond. A child starting school must turn 5 before 31 July in the year they start.
Application for Sacred Heart is a straightforward process that begins by completing this online form by downloading the enrolment form here and providing the following:
Birth certificate (original must be sighted by office staff)
Immunisation record
Baptismal certificate
Recent School Report and Naplan Report/s (Years 1-6 only).
Other Enrolment Information:
We welcome you to one of our Open Days on Thursday 22 April or Wednesday 21 July, or please contact our office on tel: 9999 3264 to arrange a private tour with our Principal, Suellen Garey.
School Fees
Sacred Heart Catholic Primary school fees for 2021 are outlined here.
We are committed to making Catholic education accessible for your child, regardless of your financial circumstance.  That's why we aim to keep our fees as low as possible.
We will never exclude a Catholic student from attending our school because of financial hardship.  If you would like to organise a payment plan to make it easier to manager your school fees, please contact the Fee Liaison Unit at the Catholic Schools Office schoolfees@dbb.org.au or email us shmv@dbb.catholic.edu.au
COVID-19 Fee Relief
Catholic Schools Broken Bay are committed to supporting families as the impact of COVID-19 continues to be felt in the community. No family will be excluded from our school because of financial difficulties.
Even if you have not enrolled yet, we would like to offer the following help with school fees if you need it:
A full reduction on ALL fees if your family gets JobSeeker.
A 50%+ reduction on ALL fees if one parent in your family gets JobKeeper.
If you are unsure if your family can get fee help or need assistance completing the form please contact our COVID-19 FEE HELP HOTLINE on 9847 0728 (8am – 4pm Monday to Friday).
Please find the 2021 Fee Relief Request form here and return to us at schoolfees@dbb.org.au