Qkr is a safe, secure and reliable way to pay for school items
Sacred Heart School uses Qkr (by MasterCard) as an easy to use, secure phone app for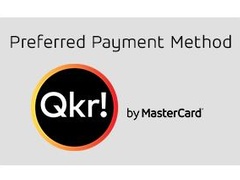 making school payments from your mobile phone.
Qkr will accept payment using ANY credit/debit card (except American Express) and has a simple checkout function. No information is stored on the mobile phone.
We are encouraging all credit card payments to be completed through Qkr, particularly for canteen orders, school fees or other special events (ICAS, Mother's Day etc).
Getting Started
Download Qkr! on your Android phone or iPhone at either the Apple App store, or Google Play.
Register your information
Search for Sacred Heart Catholic Primary School
Register your children
Introduction Steps Tip Sheet
Canteen Ordering Tip Sheet
Frequently Asked Questions
Can I add multiple payment cards?
How do I add or delete payment cards?
Can two parents set up an account for the same student?
How can I keep track of my Qkr! payments?
How are Qkr! refunds processed?
How do I add or update a photo of my child on the Qkr! app?
What is the reason for having a child's photo on the Qkr! app?
How can I remove unwanted items from my shopping cart?
Can I copy this week's orders to next week?
How do I use the calendar display when placing food orders?
How do I complete my payment after submitting a form?
How do I cancel food orders that have already been paid for?
Should I log out from the Qkr! app for security?
How can I be sure my child's canteen food order has been received by the school?
How do I reset my password (for Qkr accounts created before 30 July 2018)
How do I reset my password (for Qkr accounts created after 1 August 2018)
Instructions for using Touch ID on iPhones
The Qkr website is also available for those not wanting to complete transactions from their mobile phone.