We, the community of Sacred Heart, warmly welcome you and your children. We trust that your association with us will be an enjoyable and rewarding one.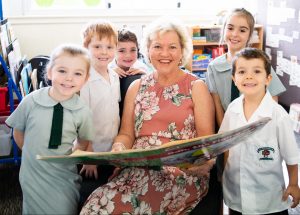 Mrs Suellen Garey commenced as the Principal of Sacred Heart in 2015.
At Sacred Heart we aim to provide a safe and nurturing learning environment for our students. The school is a vibrant learning community supported by quality teaching and innovative technology.
Our Pastoral Care and Positive Behaviour programs underpin our teaching programs. The core values of Respect, Compassion, Justice and Service are widely articulated and are the basis of our school rules.
Our partnership with parents is valued and is key to creating a welcoming community.
Sporting opportunities are plentiful at Sacred Heart and students excel in cluster, diocesan and state championships.
Students who graduate from Sacred Heart are well prepared for secondary school. They have a relationship with God through prayer, they are able to work to their potential, students have a positive self image and can form positive relationships with others and they are contributors to society.
                                                       Suellen Garey – Principal
Click here for enrolment information