Before and after school care at Sacred Heart is provided by CatholicCare and is called  "Sacred Heart Mona Vale Outside School Hours Care".
CatholicCare Diocese of Broken Bay provides before and after school care on the site of Sacred Heart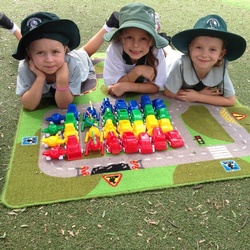 Primary School. The service is very well resourced and provides a range of experiences that cater for the interests of all ages of children. We also provide a nutritious afternoon tea during After School Care, and the option of a hot or cold breakfast at Before School Care.
Play is the essence of our service. Allowing children to time to play with their big imaginations or within our well-resourced environment. Play allows for important friendships to be created and for children to confidently express themselves.
What makes our service special is the friendships that are made across all grades – the older children enjoy helping the younger children with the routine and teaching rules to games. These friendships help all aspects of social development.
After school care is open from 2.50pm – 6.00pm, Monday to Friday during school terms.
Before school care is open from 7.00am – 8.45am, Monday to Friday during school terms.

General Information can be found on CatholicCare website